Discover more from The UConn Fast Break
All the UConn sports news you need to know.
Over 1,000 subscribers
The UConn Fast Break - 9/28/20
All the UConn sports news you need to know. Not affiliated with the University of Connecticut.
Thanks for checking out this week's edition of The UConn Fast Break!
If you'd like your friends, family, and fellow UConn fans to get up-to-speed on all things Huskies, please share this post using the button below.
---
Weekly Rewind
The latest UConn athletics news
---
Have you seen Homefield's fresh lineup of Huskies swag?!
CLICK HERE

 to sneak a peek and get a code for 20% OFF!!!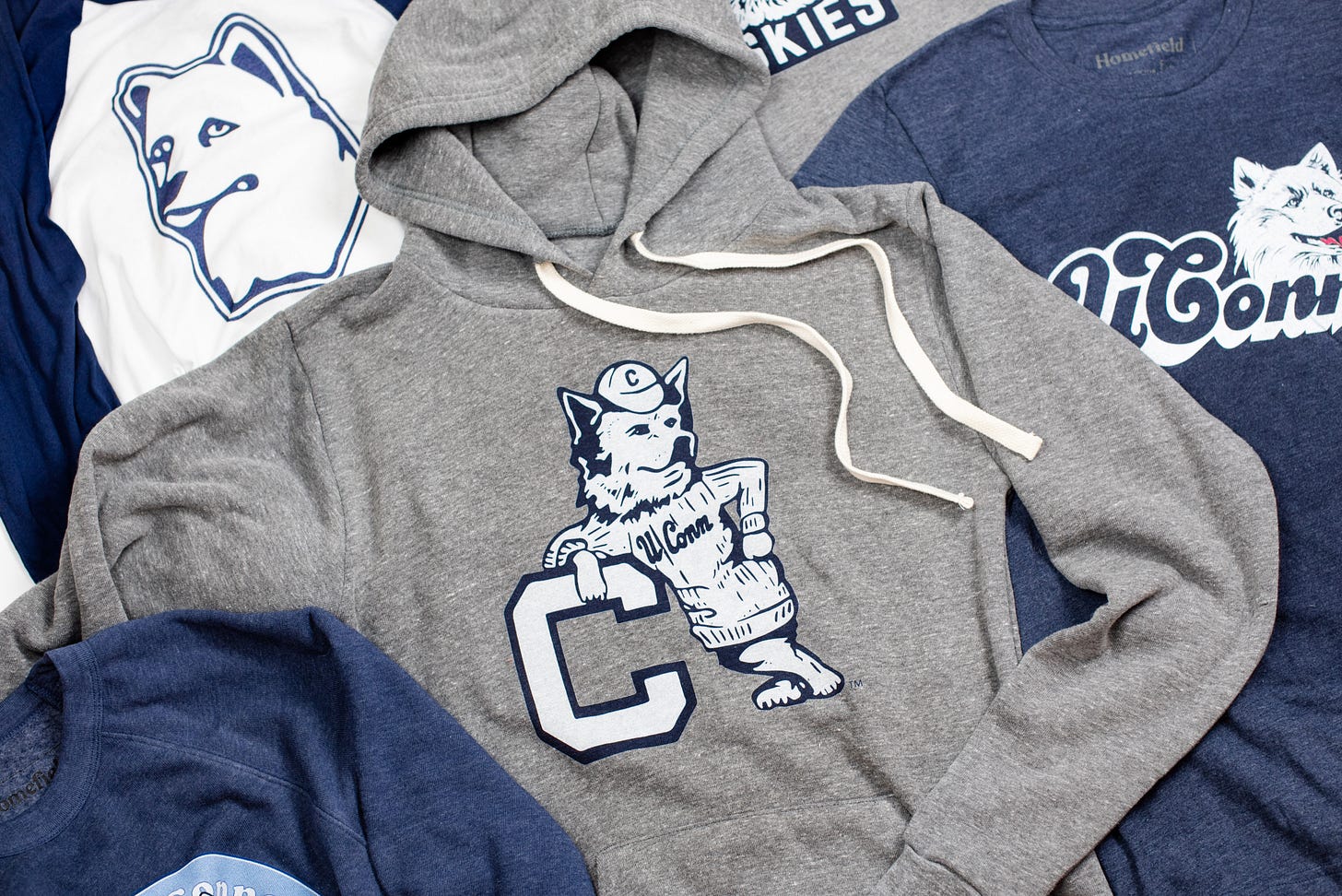 ---
U Gotta See This
Video recommendations
Get ya popcorn ready:
---
UConn, Great Pic
Photos of UConn's finest
Coming back from injury, Tyler looks like a man on a mission:
---
Coach's Corner
Find out what the UConn coaches are up to on and off the court
Practice like you play. Even if your next game isn't until 2021:
Coach Calhoun tells the tale of his time in Storrs:
In replacing Nancy Stevens, Coach Caddy knows he has some big shoes to fill:
---
Big League Buzz
Catch up on former UConn players working across the sports world
Renee Montgomery and Caron Butler continue their inspirational work:
---
Memory Lane
Revisiting the history of UConn sports
The UConn Sports Package sounds like a must-have back in '78:
We're gonna plea the fifth on this one:
"S - O - F - A, SOFA! SOFA! SOFA!"
---
Weekly Fancast
Once UConn sports return, we'll provide info for the week's upcoming games in this space. Until then, enjoy some classic recommendations from the vault.
When Maya Moore stepped away from the WNBA and dedicated her life to getting Jonathan Irons released from prison after his wrongful conviction, the sports world was stunned! Moore was at the top of her game and seemed primed to be a perennial MVP candidate with a shot at a WNBA title every season.
Fast forward a couple years and Moore's mission is accomplished. Irons is released and the two announced that they were married in a private ceremony, much to the pleasant surprise of those following the heartwarming story! In an effort to keep all of the great energy surrounding Maya Moore going, enjoy every point of the 40-spot she put up on Syracuse during the Huskies' 2009 national championship season:
---
Cause We Care
Learn about non-profits and charitable causes benefiting the great people of Connecticut
Team Impact is an extraordinary organization that gives college athletes the chance to make a difference in the lives of children dealing with devastating diseases. They describe the motivation for its founding and intent of their mission as follows:
"Upwards of 20 million kids face serious or chronic illness and none should be forced to the sidelines. Only Team IMPACT tackles the social isolation commonly associated with childhood sickness by connecting them with college athletic teams through a two-year therapeutic program—forming lifelong bonds and life-changing outcomes."
CLICK HERE to donate to and show your support for this incredible cause!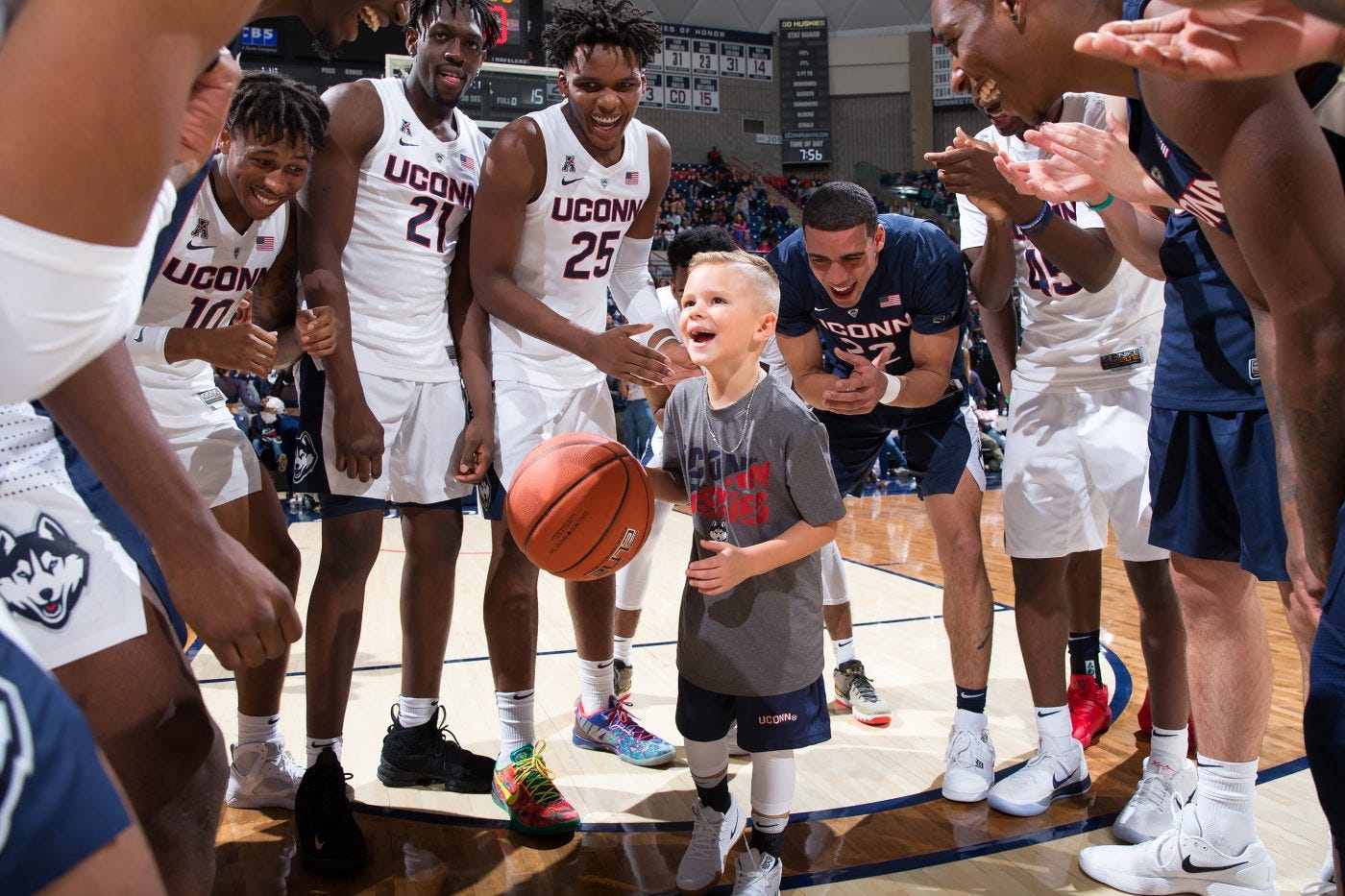 ---
We hope you enjoyed this week's edition of The UConn Fast Break!
To get all the UConn sports news you need to know sent to your inbox every week, subscribe to The UConn Fast Break below.
---
CLICK HERE

 to score Championship Collection gear!