Discover more from The UConn Fast Break
All the UConn sports news you need to know.
Over 1,000 subscribers
The UConn Fast Break - 9/21/20
All the UConn sports news you need to know. Not affiliated with the University of Connecticut.
Thanks for checking out this week's edition of The UConn Fast Break!
If you'd like your friends, family, and fellow UConn fans to get up-to-speed on all things Huskies, please share this post using the button below.
---
Weekly Rewind
The latest UConn athletics news
From The UConn Blog:
From Other Sources:
---
Have you seen Homefield's fresh lineup of Huskies swag?!
CLICK HERE

 to sneak a peek and get a promo code for 20% OFF!!!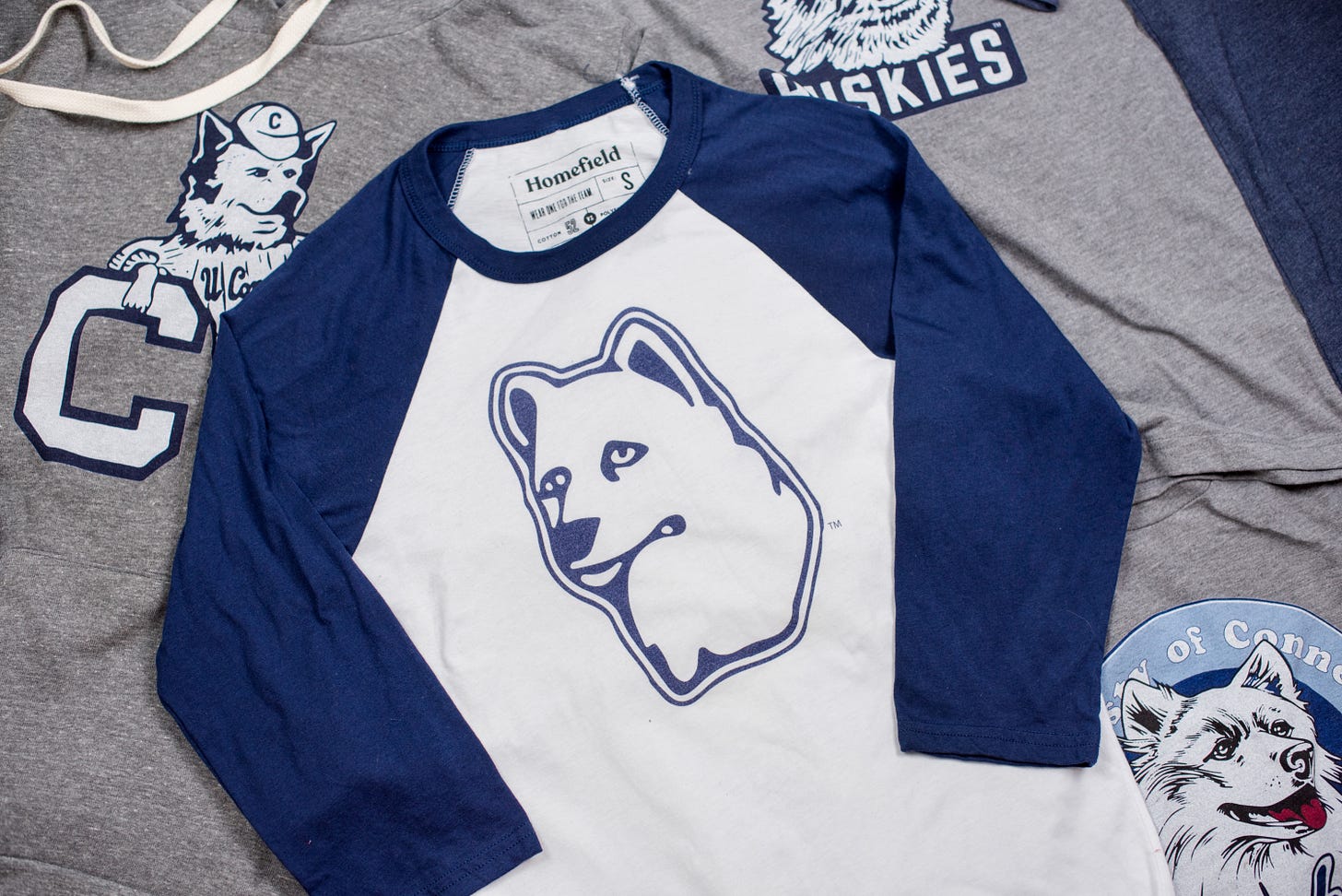 ---
U Gotta See This
Video recommendations
With hops like these, they may need to raise the roof at Gampel:
---
UConn, Great Pic
Photos of UConn's finest
Coach Hurley is determined to help the Huskies reclaim the Big East throne:
---
Big League Buzz
Catch up on former UConn players working across the sports world
---
Memory Lane
Revisiting the history of UConn sports
That '04 team was the real deal:
She's definitely a keeper:
Quite the discovery! This priceless artifact belongs in the Smithsonian:
---
Weekly Fancast
Once UConn sports return, we'll provide info for the week's upcoming games in this space. Until then, enjoy some classic recommendations from the vault.
During UConn's 2019 regional final against Oklahoma State, Jacob Wallace entered the game in the seventh inning with a one-run lead and a runner on second. What followed was one of the most dominant performances in UConn postseason history as Wallace gunned down seven consecutive Cowboys to wrap up the win and keep the Huskies' hopes for a College World Series championship alive.
Wallace went on to be drafted by the Colorado Rockies in the third round of the 2019 MLB draft and was recently traded to the Boston Red Sox, who are hoping he can rekindle some of the magic from this impressive show:
---
Cause We Care
Learn about non-profits and charitable causes benefiting the great people of Connecticut
With the pivotal 2020 elections less than two months away, UConn legend Breanna Stewart is doing her part to ensure CT residents know how and where to vote as the new face of Connecticut's Voting Playbook. The WNBA is joining Stewart and other players in supporting election initiatives through its collaboration with When We All Vote, a nonpartisan organization whose mission is "to increase participation in every election and close the race and age voting gap by changing the culture around voting, harnessing grassroots energy, and through strategic partnerships to reach every American."
CLICK HERE to learn more about this impactful organization and find out how your donation can make a difference in the upcoming elections.
---
Final Play
A parting sentiment from The UConn Fast Break team
Enjoy another taste of what we'll be seeing from Tyrese Martin this season:
---
We hope you enjoyed this week's edition of The UConn Fast Break!
To get all the UConn sports news you need to know sent to your inbox every week, subscribe to The UConn Fast Break below.
---
CLICK HERE

 to score Championship Collection gear!