Discover more from The UConn Fast Break
All the UConn sports news you need to know.
Over 1,000 subscribers
The UConn Fast Break - 10/19/20
All the UConn sports news you need to know. Not affiliated with the University of Connecticut.
Thanks for checking out this week's edition of The UConn Fast Break!
Please let your friends, family, and fellow UConn fans know about this weekly spotlight on UConn sports by clicking the button below.
---
Weekly Rewind
The latest UConn athletics news
---
Have you seen Homefield's fresh lineup of Huskies swag?!
CLICK HERE

 to sneak a peek and get a code for 20% OFF!!!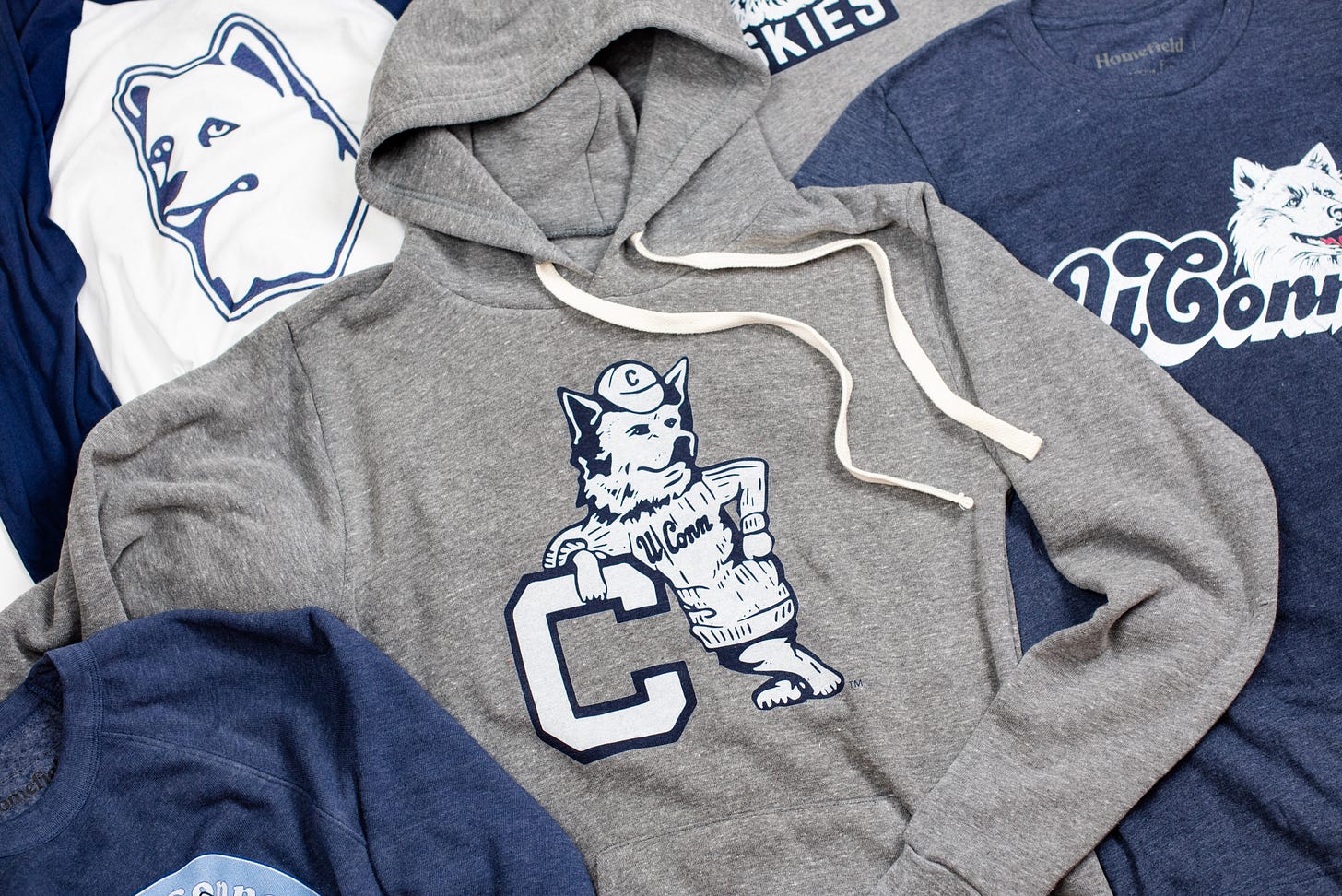 ---
U Gotta See This
Video recommendations
Tyler Polley is a man on a mission:
---
UConn, Great Pic
Photos of UConn's finest
The squad is looking lean, mean, large, and in-charge after a productive preseason: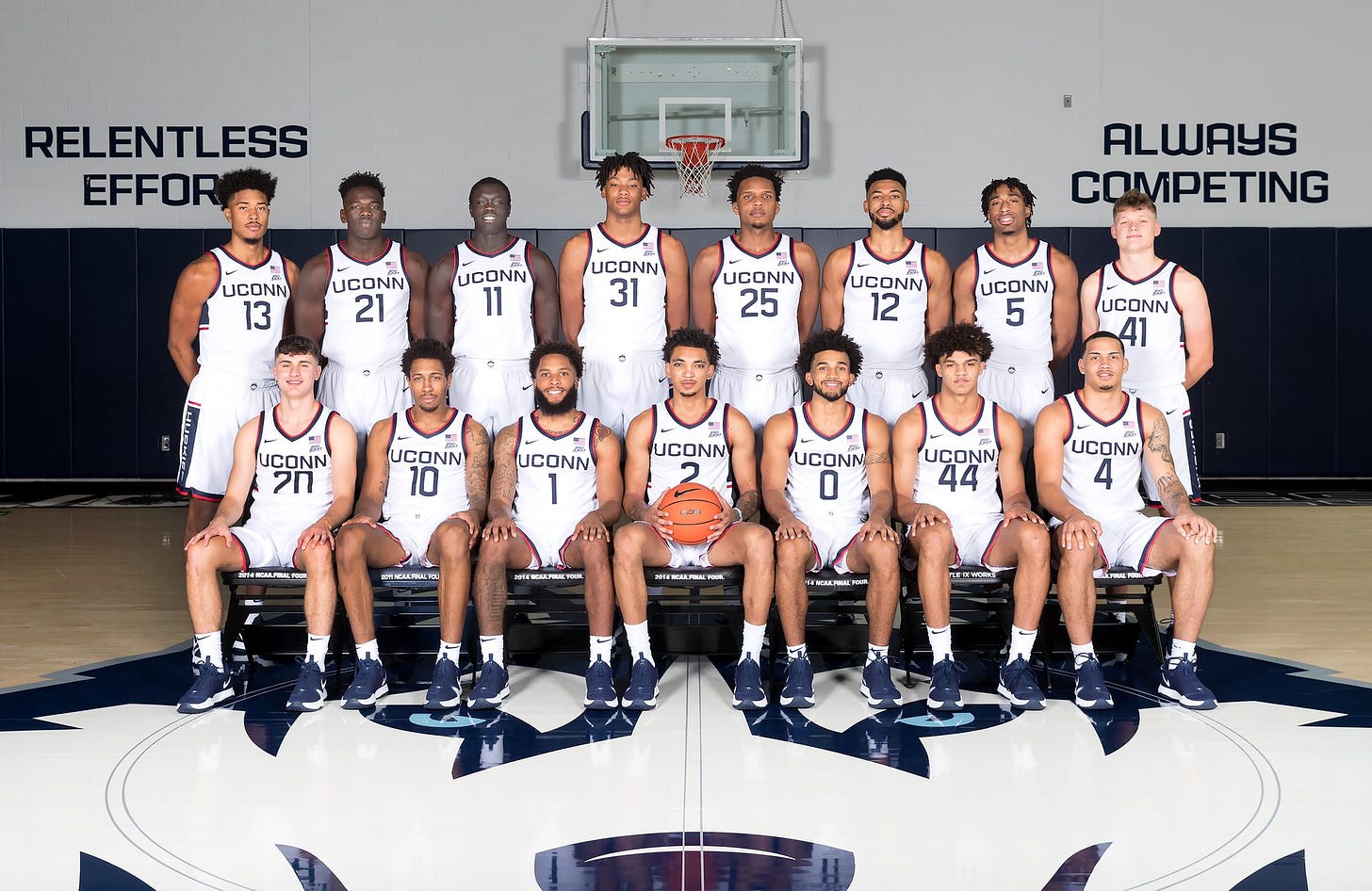 Photo courtesy of UConn Athletics
---
Coach's Corner
Find out what the UConn coaches are up to on and off the court
Randy never misses an opportunity to promote the program:
Coach Moore with the behind-the-scenes look at the Huskies' first practice:
We wouldn't expect anything less from @CoachKFree:
---
Big League Buzz
Catch up on former UConn players working across the sports world
It's been quite a run if George's time in Houston is done:
---
Memory Lane
Revisiting the history of UConn sports
These Huskies hurlers helped put the program on the map:
Motion to destroy all evidence of BC's membership in the Big East:
---
Weekly Fancast
Once UConn sports return, we'll provide info for the week's upcoming games in this space. Until then, enjoy some classic recommendations from the vault.
George Springer is one of the greatest players in Huskies baseball history and has made quite a name for himself with the Houston Astros since leaving the friendly confines of UConn. After an illustrious college career in Storrs, the New Britain native was drafted 11th overall by the Astros in the 2011 draft and proceeded to terrorize postseason records with reckless abandon ever since he got called up to the big leagues in 2014. His performance as a professional has earned him plenty of prestige, as well, including the titles of World Series champion, World Series MVP, MLB All-Star (x3), and Silver Slugger (x2).
Springer's best year at UConn was undoubtedly 2011 when he won Big East Player of the Year and was named a First Team All-American by the National Collegiate Baseball Writers Association. That season, which was Springer's last in Storrs, the Huskies won the Big East regular-season title after going 22-5 in conference play (45-20-1 overall) and were on a tear in the NCAA D-1 tournament before losing to South Carolina in the Super Regionals.
Check out these highlights from UConn baseball's 2011 season where Springer played alongside future major leaguers Matt Barnes, Scott Oberg, and Nick Ahmed:
---
Cause We Care
Learn about non-profits and charitable causes benefiting the great people of Connecticut
With COVID-19 cases already surging as cold weather draws near, it will be imperative for everyone to do what they can to limit the spread of coronavirus during the months ahead. One way experts believe that can happen is by wearing face masks, however, not everyone is taking this precaution regardless of the potential risk to themselves and others.
In an effort to encourage these individuals to change their stance and mask-up, former UConn basketball great Chris Smith has come out with a line of masks and t-shirts relaying a simple and non-confrontational message: Wear Ya Mask! To make even more of an impact in the community, Smith has teamed up with Foodshare and is donating a portion of the proceeds to help feed Connecticut's hungry and homeless.
CLICK HERE to learn more about Smith's mission and do your part to stop the spread!
---
Last Shot
One more glimpse of UConn glory
Beware the backcourt bullies of the Big East:
---
We hope you enjoyed this week's edition of The UConn Fast Break!
To get all the UConn sports news you need to know sent to your inbox every week, subscribe to The UConn Fast Break below.
---
CLICK HERE

 to score Championship Collection gear!