Discover more from The UConn Fast Break
All the UConn sports news you need to know.
Over 1,000 subscribers
The UConn Fast Break - 6/15/20
All the UConn sports news you need to know. Not affiliated with the University of Connecticut.
WEEKLY REWIND
The latest UConn athletics news
From The UConn Blog:
From Other Sources:
---
U Gotta See This
Video recommendations
It's been an absolute joy watching Geno's Huskies dominate the competition:
Relive the "Kemba Stepback" through the eyes of #15 himself:
---
UConn, Great Pic
Photos of UConn's finest
Ray Allen showed his support for the #BlackLivesMatter movement with this symbolic haircut and heartfelt post. CLICK HERE to read the post in its entirety: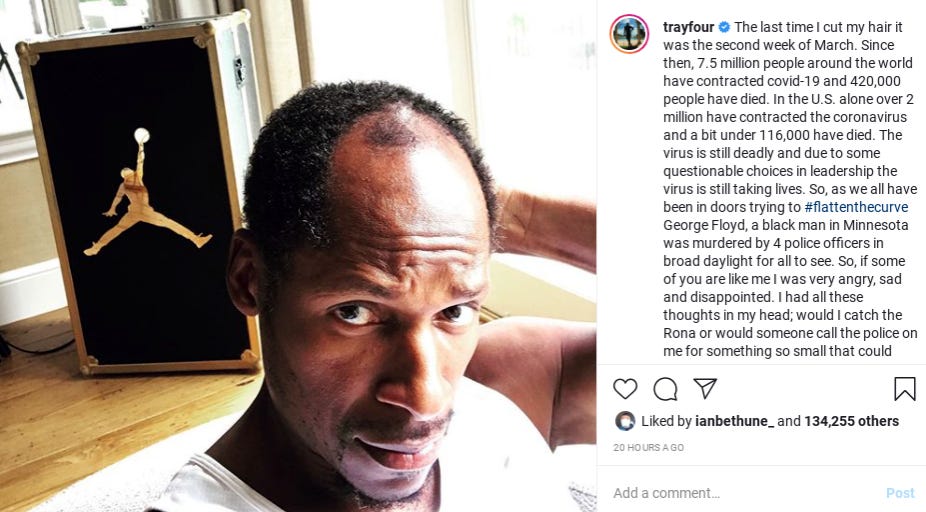 ---
Coach's Corner
Find out what the UConn coaches are up to on and off the court
Randy Edsall is fired up:
---
Big League Buzz
Catch up on former UConn players working across the sports world
Caron Butler doesn't hold back when asked about James Dolan and the Knicks:
---
What They're Chirpin' About
Highlights from the UConn Twitter-verse
UConn Football is making some serious noise on the recruiting trail...
... so much so that they've vaulted to the 67th ranked recruiting class in all of Division-I:
James Bouknight is on everybody's radar these days:
To help UConn Athletics put a dent in their budget deficit, they could sell customizable cardboard cutouts of fans and place them in the stands during games. They could also find a way out of Rentschler Field:
Budgets are tight but we're still getting new stadiums:
---
FANtastic
Fun expressions of Husky fandom from across the web
Such a classic look! We have no doubt you'll put them to good use:
UConn in the NFL?! How exciting! Not sure about that 82% fan rating though...
Nobody puts slanderous haters in their place like us: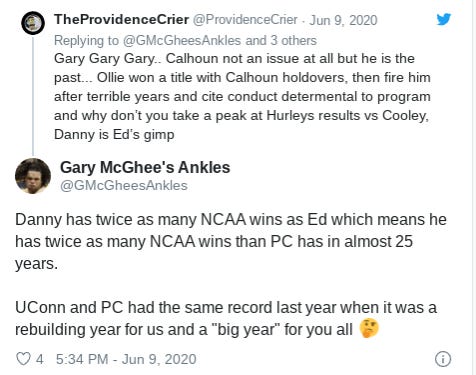 ---
Memory Lane
Revisiting the history of UConn sports
---
Weekly Fancast
Once UConn sports return, we'll provide info for the week's upcoming games in this space. Until then, enjoy some classic recommendations from the vault.
Feast your eyes on this rebroadcast of the 1999 national championship clash between UConn and Duke, featuring a post-game interview with Ricky Moore and Rashamel Jones:
CLICK HERE to watch the original broadcast of this game for the ages!
---
Cause We Care:
Learn about non-profits and charitable causes benefiting the great people of Connecticut
While the work of these organizations is certain to benefit CT residents, their missions to end systemic racism, enable social justice, and empower underserved communities don't stop with the Nutmeg State. Here are some of the causes fighting for a better America:
---
Be sure to follow us on social media!
---
And 

CLICK HERE

 to score Championship Collection gear!