Discover more from The UConn Fast Break
All the UConn sports news you need to know.
Over 1,000 subscribers
The UConn Fast Break - 7/6/20
All the UConn sports news you need to know. Not affiliated with the University of Connecticut
Weekly Rewind
The latest UConn athletics news
From The UConn Blog:
From Others:
---
U Gotta See This
Video recommendations
Five minutes of UConn men's basketball magic to celebrate their Big East reunion:
---
UConn, Great Pic
Photos of UConn's finest
The Museum of Modern Art is calling: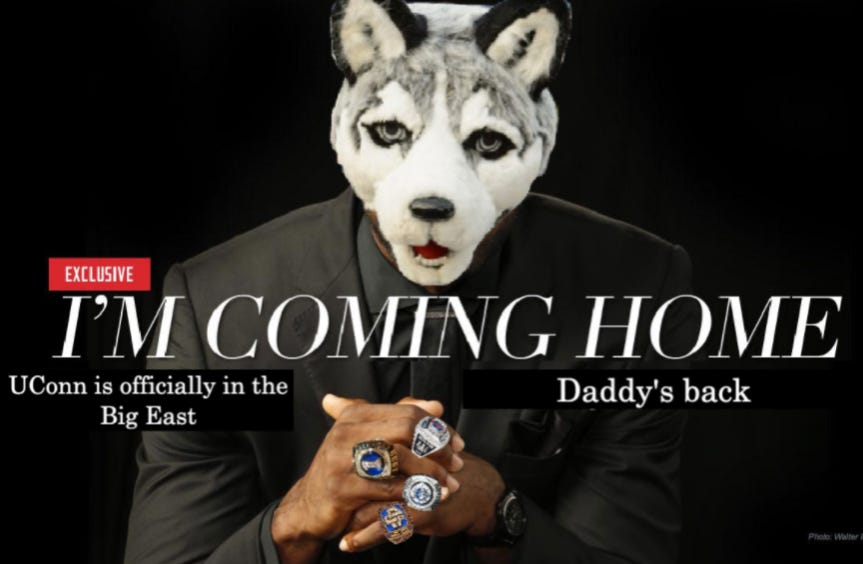 ---
Coach's Corner
Find out what the UConn coaches are up to on and off the court
---
What They're Chirpin' About
Highlights from the UConn Twitter-verse
We apologize in advance for the intense internal struggle you're about to experience:
James is destined for greatness. Does he Bouk it to the NBA after this season?
---
Big League Buzz
Catch up on former UConn players working across the sports world
---
FANtastic
Fun expressions of Husky fandom from across the web
It seems Georgetown's title aspirations have been frozen in time:
Can't think of a better moment to pop bottles:
Important sports analytics discovery:
Akok looks determined to beat his recovery timeline:
---
Memory Lane
Revisiting the history of UConn sports
With UConn men's and women's basketball now officially back in the Big East. Here are some of their defining moments in conference play:
---
Weekly Fancast
Once UConn sports return, we'll provide info for the week's upcoming games in this space. Until then, enjoy some classic recommendations from the vault.
No matter if it's the old Big East, AAC, or new Big East, UConn women's basketball's dominant dynasty reigns over the sport. Let's travel back to 2012 when Geno's squad last competed in the Big East Tournament.
CLICK HERE to watch UConn's thrilling victory over Notre Dame in its entirety.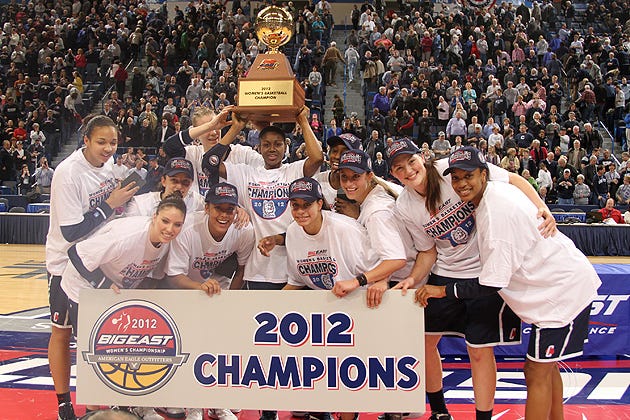 ---
Cause We Care:
Learn about non-profits and charitable causes benefiting the great people of Connecticut
With a focus on developing youth centers and providing underserved youth with access to new technology, Ray Allen's Ray of Hope Foundation is working to give these students life-changing opportunities and a chance at a better future. Their mission statement reads:
"The Ray of Hope Foundation assists with sports-related and community-based programs and provides avenues of opportunity through which our youth can "hope" to realize their full potential."
CLICK HERE to learn more about this fantastic foundation founded by one of the greatest to ever wear a UConn uniform!
---
Final Play
A parting sentiment from The UConn Fast Break team
The move to the Big East is obviously a big one, with so many benefits to the athletic department, the school, and alumni. One thing that should not be overlooked is how much better the day-to-day fan experience will be. Caring about every league game, being able to attend away games, competing for a conference title we care about, and having the conference tournaments at Madison Square Garden and Mohegan Sun are going to be absolutely epic. Coming from the folks who have been writing previews, recaps, and analysis of dismal seasons featuring uninteresting opponents, we cannot emphasize enough how amazing it will feel to replace Houston, SMU and Tulsa with Villanova, Seton Hall (who is good now?) and Georgetown as Dan Hurley and Geno Auriemma usher in a new era of success for their respective programs.
Take us home, Coach:
---
Be sure to follow us on social media!
---
And 

CLICK HERE

 to score Championship Collection gear!