Discover more from The UConn Fast Break
All the UConn sports news you need to know.
Over 1,000 subscribers
The UConn Fast Break - 8/10/20
All the UConn sports news you need to know. Not affiliated with the University of Connecticut.
Thanks for checking out this week's edition of The UConn Fast Break!
If you'd like your friends, family, and fellow UConn fans to get up-to-speed on all things Huskies, please share this post using the button below.
---
Weekly Rewind
The latest UConn athletics news
---
Big news, UConn fans: Homefield launched a line of retro Huskies gear!
CLICK HERE

 to preview the apparel and get a promo code for 20% OFF!!!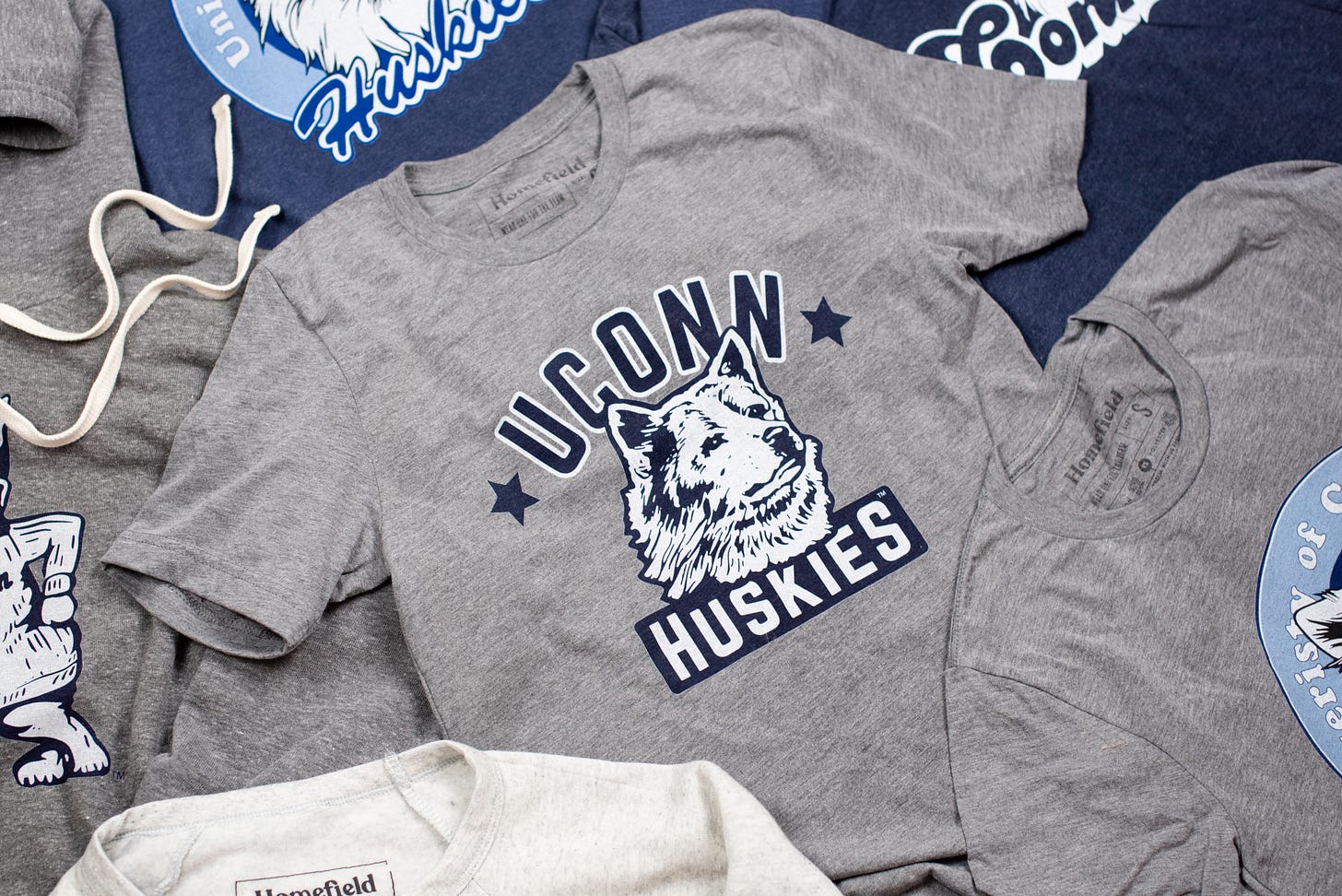 ---
U Gotta See This
Video recommendations
Enjoy another take on the Hawkins news paired with his highlight reel:
---
UConn, Great Pic
Photos of UConn's finest
It's safety first for Geno's squad this season: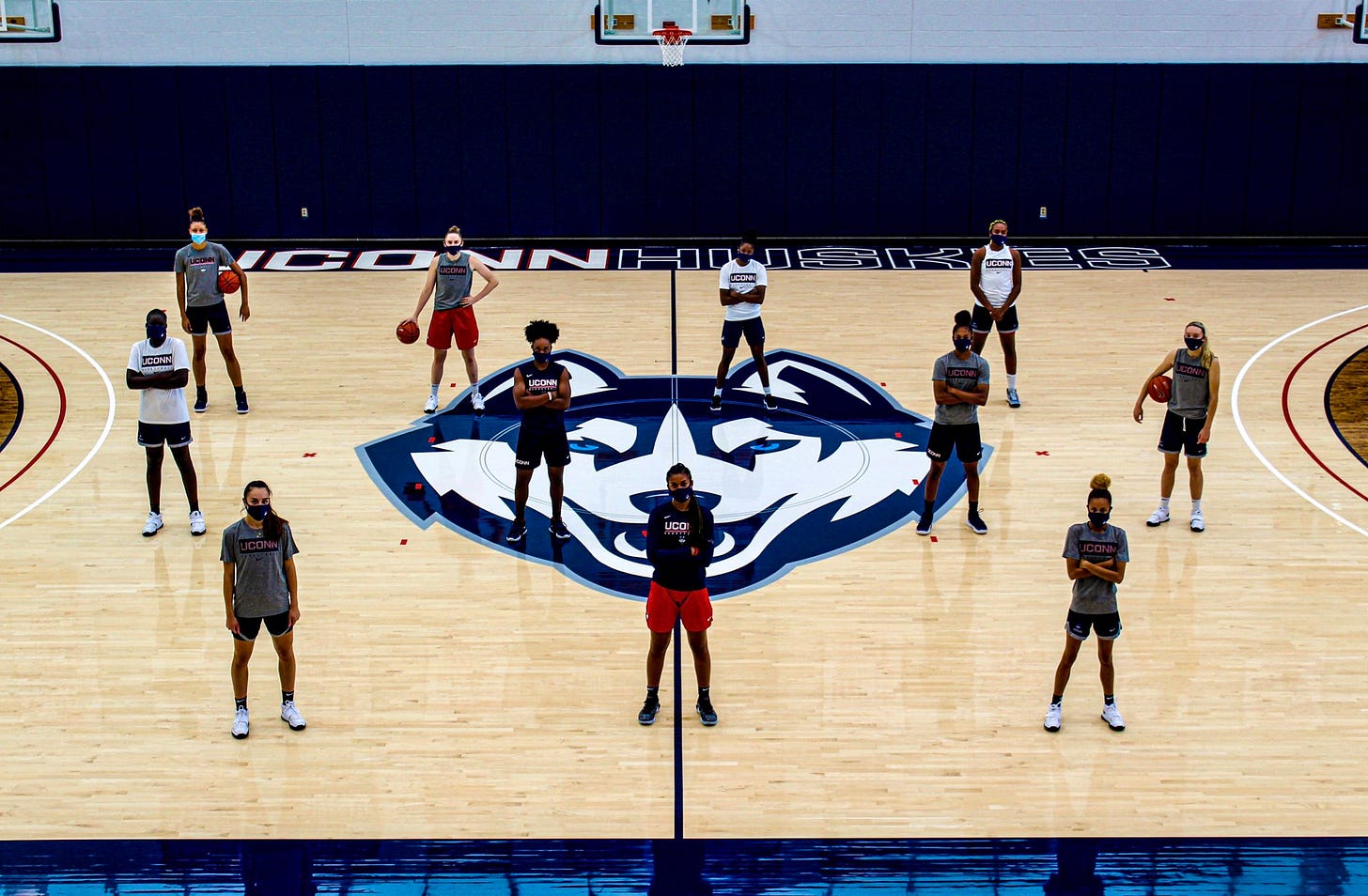 ---
Coach's Corner
Find out what the UConn coaches are up to on and off the court
Get a tour of Elliot Ballpark courtesy of Jim Penders:
---
Big League Buzz
Catch up on former UConn players working across the sports world
---
Team Time
Putting one of our UConn squads in the spotlight
UConn football made national headlines this week when they became the first FBS football program to opt-out of the 2020 season. This monumental decision drew praise and criticism alike, with many questioning how big a role the Huskies' dwindling schedule played in the move. Here are some of the noteworthy reactions:
Hang in there, little guy. UConn football will be back someday:
Current UConn football players shared the following statement:

Coach Edsall gets the last word:
---
Memory Lane
Revisiting the history of UConn sports
Except for Syracuse and Memphis, what great company to be a part of:
Speaking of '04, looks like this SI preview was right on the money:
---
Weekly Fancast
Once UConn sports return, we'll provide info for the week's upcoming games in this space. Until then, enjoy some classic recommendations from the vault.
UConn women's basketball has had some incredible teams in its illustrious history and the 2001-02 squad is certainly in the discussion for best of the bunch. Led by UConn legends Diana Taurasi, Swin Cash, and Sue Bird, the Huskies faced off with Oklahoma in the 2002 national championship game.
CLICK HERE to watch every moment of UConn's thrilling 82-70 victory and explore the Huskies' official year in review to relive one of the finest seasons in NCAA history.

---
Cause We Care:
Learn about non-profits and charitable causes benefiting the great people of Connecticut
Thanks to the generous donations of those touched by the passing of Stanley "Sticks" Robinson, the Robinson family can properly lay their son to rest. Jim Calhoun requests that attention now shift to supporting Stanley's three daughters. With the help of 1999 NCAA champion Jake Voskuhl, a collection has been started to help secure the future for the Robinson girls.
CLICK HERE to learn about their fundraising efforts and donate to this worthy cause.
---
Final Play:
A parting sentiment from The UConn Fast Break team
Take one last look at the newest member of UConn men's basketball's 2021 class:
---
We hope you enjoyed this week's edition of The UConn Fast Break!
To get all the UConn sports news you need to know sent to your inbox every week, subscribe to The UConn Fast Break below.
---
And 

CLICK HERE

 to score Championship Collection gear!